On April 19, after over a year of operation in Chile, GAC MOTOR released the brand-new, trendy and comfy SUV - ALL NEW GS4.
ALL NEW GS4 is one of GAC MOTOR's most practical models for everyday living and satisfies a wide range of scenarios. The brand new version of this trendy SUV greeted the people of Chile with a revamped design and research-based optimization tweaks.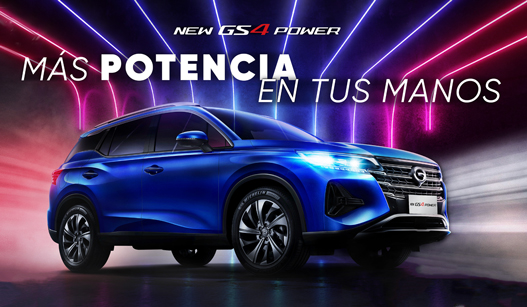 The ALL NEW GS4: Power in Your Hands
ALL NEW GS4's debut was held at Entremuros, an avant-garde site built upon the ruins of a historic building in Santiego, Chile.
Videos of six top technical experts from GAC R&D Center were shown at the launch; they elaborated on the development of ALL NEW GS4 from power, exterior, interior, chassis, NVH, quality and other aspects.
Some thirty renowned automotive media outlets attended the launch. Rutamotor, a Youtube account with nearly 100k subscribers, will be following up with an in-depth review of ALL NEW GS4.
In accordance with GAC MOTOR's brand mission of bringing the best of Chinese craftsmanship to the world, the GAC MOTOR utilizes world-class technology to create a smart, comfortable and beautifully designed SUV.
Firstly, the exterior has been revamped, with a dynamic light and shadow aesthetic theme that gives the car a sleeker and more modern look.
The engine, meanwhile, is a powerful new-generation 270T, which gives the car plenty of kick without losing handling stability or comfort.
Market research has consistently shown that for modern Chilean buyers, fuel efficiency and long-term cost effectiveness are high priorities, which is why the new ALL NEW GS4 features enhanced durability testing and super-low fuel consumption.
On the inside, the ALL NEW GS4 features a high-tech cabin designed to stimulate all 5 senses, from the luxurious feel of high-grade leather seating to the Bluetooth connectivity. Other intelligent technology features include memory seat buttons and a large, user-friendly intelligent touch screen.
An Expanding Brand Presence
ALL NEW GS4's debut in Chile marks another important step in GAC MOTOR's expansion strategy in Latin America. The model, successfully launched in Panama, Bolivia, and Paraguay, and will enter the Ecuadorean market this May.
GAC MOTOR will continue to deliver beautiful travel experiences through advanced technology to the Latin American market and beyond.